Hearty chicken and rice with tropical flavors or pineapple and coconut as well as juicy tomatoes, crispy almonds and much more make this Hawaiian haystack pan a family pot winner!
What is a Hawaiian haystack?
Every time I post this food on Instagram people are asked what it is! We love the flavors of the Hawaiian haystacks. They start with a chicken and rice base that is creamy and soothing. Then add the toppings that really make this meal. There are so many delicious and healthy fruits and vegetables that you can stack on them for a variety of tastes, textures and colors. Some of our favorites are:
pineapple
tomatoes
Coconut flakes
Almond chips
Olives
Green onion
Grated cheese
Chow Mein noodles
celery
Red or green peppers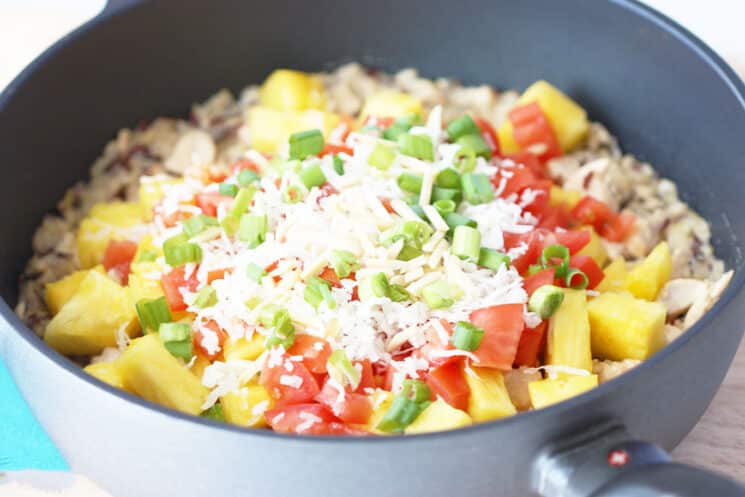 How To Make Hawaiian Haystack Pan
The reason we love this recipe so much is that you can make everything in one pan. Some of our favorite dishes are stews. Less dishes is a win for everyone in the kitchen!
First cut the chicken into bite-size pieces and cook it in your pan until it is brown on the outside. Next, add your coconut milk, chicken broth, and rice. Depending on the type of rice used, simmer for 15 to 30 minutes at low temperature. You will know that it is done because the liquid is absorbed and your rice is soft. We used a mix of wild and brown rice / quinoa, so it took a while for ours to finish. The thicker the rice, the longer it takes to cook. Prepare your toppings while it cooks. We used fresh pineapple because we think it tastes better!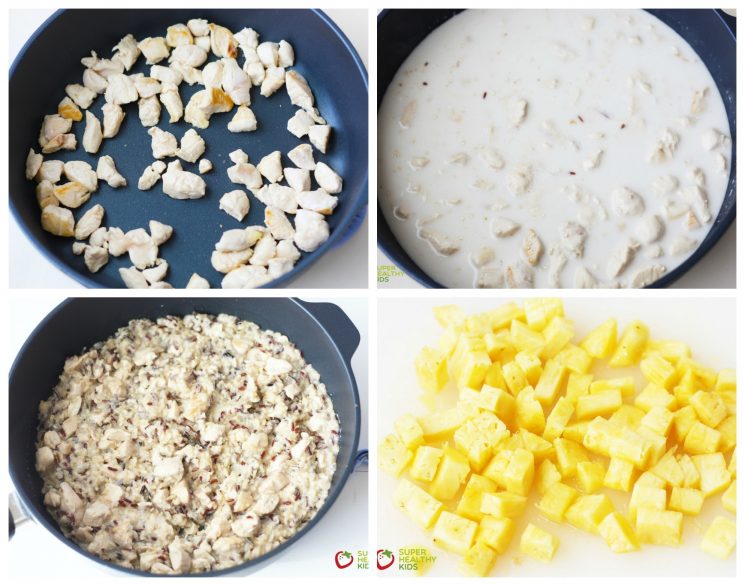 Pineapple chop
The trick to making a super sweet juicy pineapple is to store it upside down on the counter for a few hours before it is cut. If your pineapple isn't quite ripe, you can turn it upside down overnight. All the juices and sugar run through the pineapple and make them absolutely delicious!
The toppings that we put in our haystacks: fresh pineapple, chopped tomatoes, sliced ​​spring onions, grated coconut and flaked almonds.
Once your rice-chicken mixture is ready, take it off the stove and add your toppings. We layered the pineapple first, then the tomatoes, then the grated coconut, then the spring onions, and finally the almond slivers. This is a versatile meal as you can add any toppings to your kids! We hope you enjoy this fresh meal as much as we do!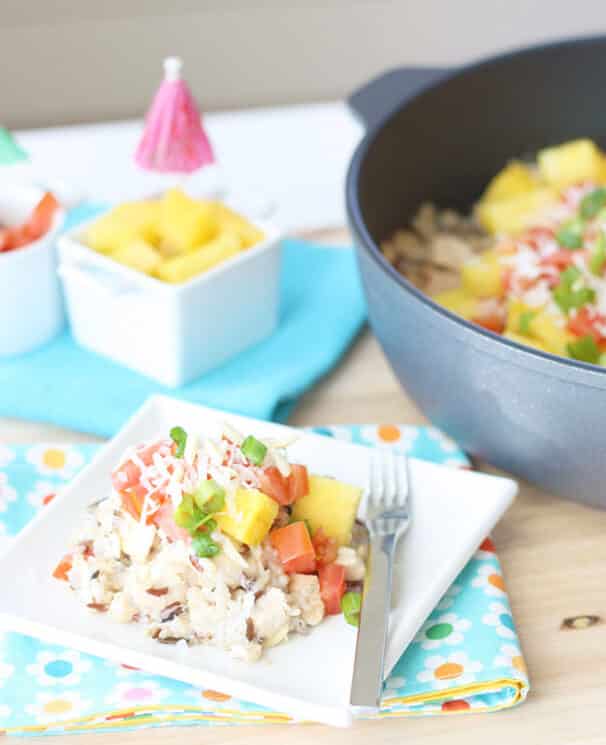 2nd Chicken breast
1 Cup Coconut milk
1 Cup Chicken broth, low in sodium
1 Cup brown rice, raw
Topping
2nd cups pineapple chopped
3rd medium tomatoes
2nd Stems green onion
1/2 Cup Coconut flakes
1/4 Cup Almond chips
Other ideas: black olives, grated cheese, chow mein noodles, celery
Cut the chicken into bite-size pieces

In a frying pan, cook the chicken in 1 teaspoon of oil over medium heat until it is brown on the outside.

Add coconut milk, chicken broth and rice. Bring to a boil.

Reduce heat and cover. Simmer at low temperature until the liquid is absorbed and the rice is soft.

In the meantime, prepare the topping.

As soon as the chicken mixture is ready, remove from the heat.

Place over the chicken mixture. Serve warm.
Calories: 513kcal | Carbohydrates: 60G | Protein: 22G | Fat: 22G | Saturated fatty acids: fifteenG | Cholesterol: 41mg | Sodium: 90mg | Dietary fiber: 6G | Sugar: fifteenG