This is a recipe I picked up in Near & Far in 2015, inspired by a trip to Italy a few years earlier. It is arguably the best way to cook beans, a version of the popular Tuscan bean recipe – Fagioli al Fiasko. And it is the method that I always return to. Traditionally, beans were baked overnight in a Chianti bottle that was near the glow of the night fire. Although it's not exactly authentic (no fire here), I do a reef over the general idea by using a low-temperature oven and a pot lined with enamel. The technique couldn't be easier, and if you want to know how to cook beans that are beautifully luxurious, tender, and creamy, this is the recipe you should try.
What kind of beans to buy?
The beans shown here are cranberry beans from Rancho Gordo. Velvety and thin-skinned, they are an absolute dream for cooking. You can also use cannellini or cassoulet beans. I mean, honestly, most beans cooked this way will be wonderful. The main thing I would pay attention to is the source. Buy beans at a place with good sales or from a farmer or company you know and trust. Buying beans that have been sitting around or stored for years can be a problem. The beans stay tough, etc.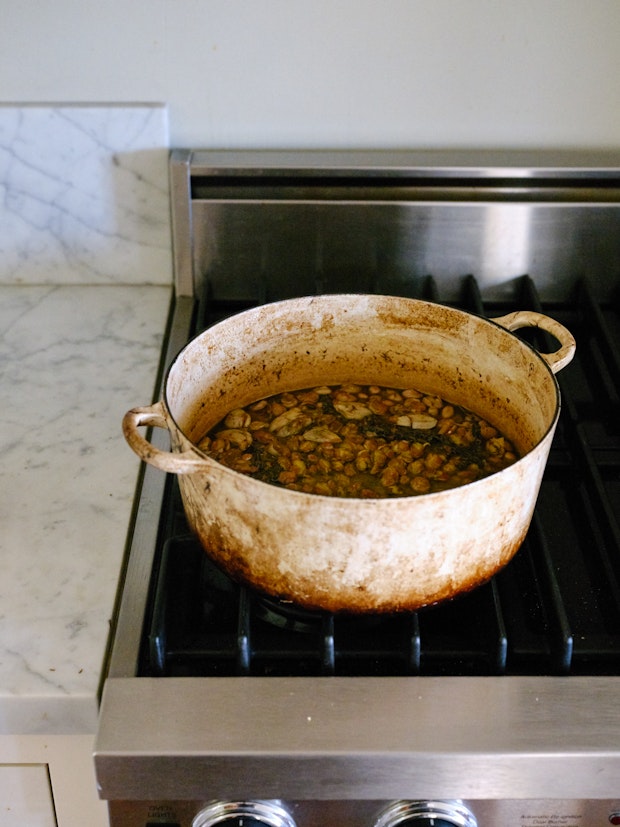 The magic of the bean broth
The key to these beans is their simplicity. It's one of those occasions when you have to keep it really simple. Use good beans, good garlic, and good olive oil. The gentle, even heat of your oven brings the handful of ingredients into a beautiful, broth-like saucepan with beans. Remember the bean broth is special and I like to drink it straight from the pot. It's freckled with chilli flakes and littered with olive oil, and you should enjoy every tablespoon of it. The bean broth here is somehow exponentially better than when I cook beans on the stove.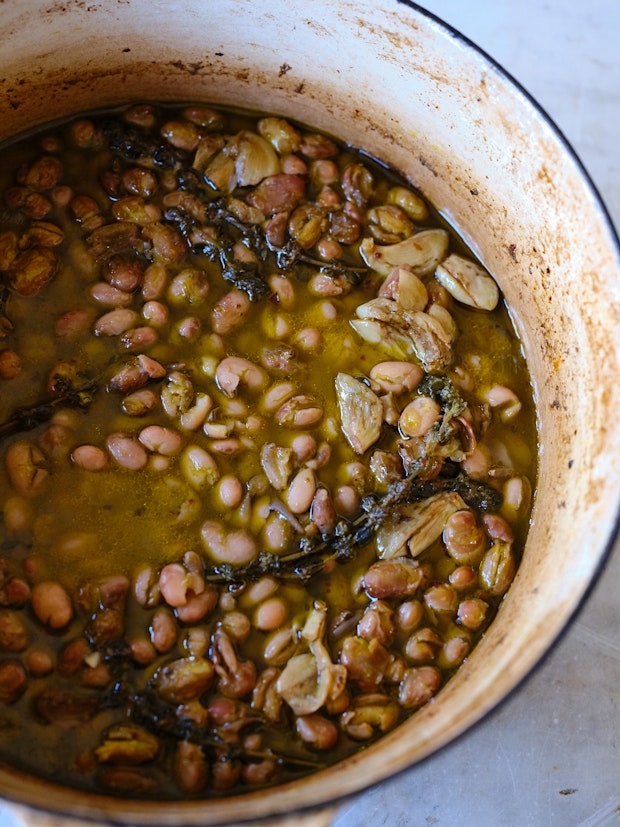 Ideas for serving beans
You can enjoy these beans on their own so that they can fill bruschetta or scoop over pasta. We had them this afternoon for lunch on freshly made masa tortillas topped with avocado and a smear of a cali-style Chermoula sauce. That's exactly what we've had lunch for the past three days. Laugh cry.
Leftovers! I used the last part of this pot of beans in a spontaneous casserole by throwing 2/3 beans (and broth) with 1/3 leftover short noodles and some torn mozzarella into an 8×8 inch casserole dish. Top with a little more cheese, lemon peel, spring onions and a lot of herb bread crumbs. Bake covered for 35 minutes or until bubbly and hot. So good! It was served right alongside asparagus and a simple salad. Bad picture below!
If you are interested in an instant pot version of this recipe, I have you. And if you're looking for other simple, pantry-friendly recipes, check out the rice recipes (especially this green rice) or these pasta recipes (these noodles with creamy, crushed walnut sauce are very popular). There are also many bean recipes in the archive. Don't miss this simple farro and bean stew, this carrot, dill and white bean salad, and Ribollita is always a crowd-puller. If you are interested in me cooking it, I will post the video here (under the highlights of Cooking III). Please enjoy!