You can tell from the many tomato recipes lately that I am right in the middle. And today is no exception. I did this for dinner last night and if you have a box of spaghetti and some good tomatoes you are halfway there. What you see is a tangle of spaghetti, olives, nuts, vegetables and shredded mozzarella in a tomato sauce without a lemon zest. It is a bright, summery, colorful meal that can be easily adapted to your needs. The key? Do it on a particularly hot night when the tomato season is at its maximum. And don't even mess around if your tomatoes don't get to the point.
So many variations!
This is a quintessential pantry. I've added olives, pine nuts, and some cheese to the basic ingredients of spaghetti and tomatoes, but you can experiment with endless other directions. I love the pine nuts here, but toasted almonds, walnuts, hazelnuts or cashews would all be great. You could make a spicy version by adding a dash of Harissa or some chilli flakes or a tablespoon of toasted sesame chilli oil to the sauce. On the vegetable side you see pictured beans (because that's just coming from my garden), but load up everything from broccoli and cauliflower flowers or asparagus – basically any quick-boiling vegetables that you can throw in the pasta at the last minute of water.
The spaghetti
Use your favorite spaghetti pasta here. I love a traditional spaghetti noodle, don't get me wrong, but one of the big surprises for me in recent years is how good some of the whole grain and legumes are. There is a wide range of brands, so you have to experiment. My advice on this front is to "date" until you find some brands and shapes that you like. For everyday noodle eating, when you compare nutritional labels, the noodles made from more whole ingredients can provide significantly more vitamins, minerals, fiber, proteins, and the like. So it's worth playing around.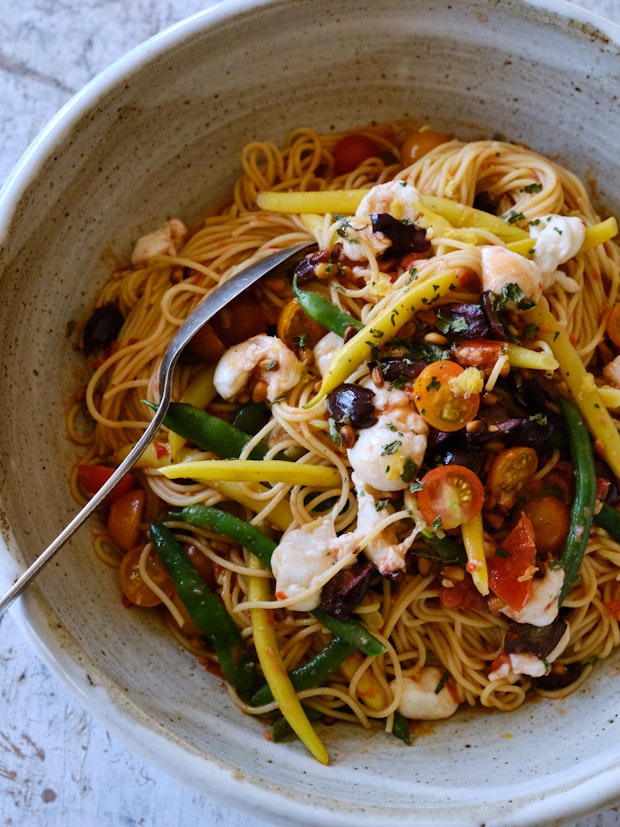 If you're looking for more tomato-based recipes, I've recently published this tomato tart. Try a fresh version of this tomato sauce. Make this favorite salsa. Or add them to a summer coleslaw. If you're just looking for summer favorites, try this grilled zucchini bread salad, this pasta with crushed zucchini cream, or this zucchini bread. Enjoy!