If clear water doesn't make your products as clean as you want, try this simple, homemade vegetarian wash made from a mixture of vinegar and water.
Do you wash your fruits and vegetables after taking them home from the store or farmers market? We do it. While washing your vegetables isn't a guarantee that you will remove anything that could make you or your family sick, it can help.
Does washing your vegetables make it safer?
Washing vegetables can remove dirt and debris with larger particles.
It can also help remove high levels of bacteria and viruses.
Washing minimizes exposure to pesticides, although these residues are not completely eliminated.
Washing vegetables may NOT protect your children from certain resistant bacteria such as E. coli or salmonella.
According to the International Food Safety Council, the E. coli bacterium has made itself very resistant to cleaning after effectively adhering to your products. It develops a film about itself to ensure survival. Sometimes these little guys are even deposited in the meat of your products, which could not be removed with any cleaning method. However, if they have not developed a film that will help them hold on and are loose, they can be rinsed off. This is also the case with Salmonella bacteria.
So if for any reason you can minimize exposure to pesticides and bacteria, this should definitely be a practice you can teach your kids.
This is our practice for cleaning our fruits and vegetables. But we wait until we're done cleaning the products. If you clean early and then sit on a counter, more bacteria can grow.
How to do homemade vegetarian laundry
Place the following ingredients in a clean spray bottle:
2 cups of water
1 cup of white vinegar (with 5% acid)
Spray your vegetables generously and then let them soak for 10 minutes.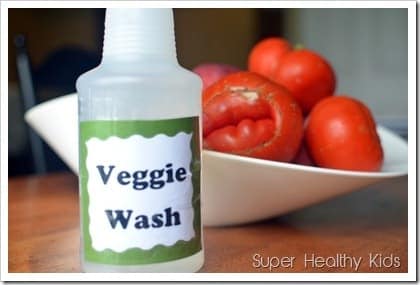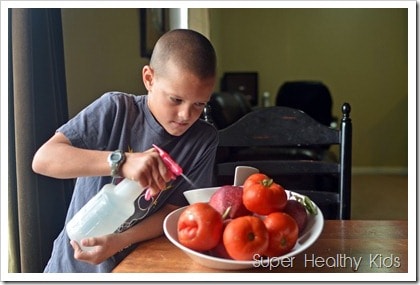 Rinse after spraying
After leaving your vegetables in the vinegar spray for about ten minutes, rinse them well in clean, fresh water. Simply rubbing fruits and vegetables with your hands is an effective final step.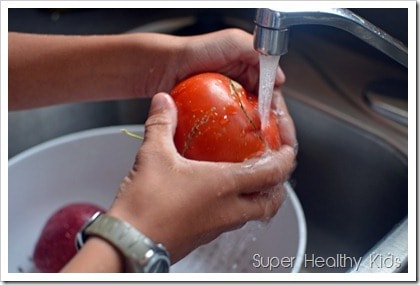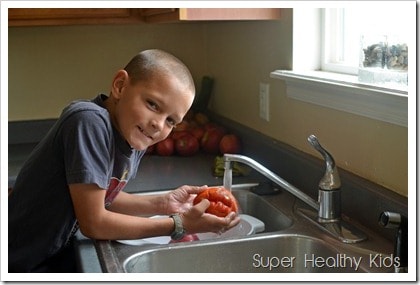 This simple exercise can help keep your kids healthy!
Do you wash your products?