These sweet zucchini pancakes are packed with the goodness of zucchini. Just like eating a warm slice of zucchini bread with spices like cinnamon and nutmeg.
In autumn we like to make pumpkin pancakes. They are sweet, hearty and a deliciously filling breakfast. But for some reason, they just don't seem right in summer. Isn't it funny that we create our own food laws when there really isn't anyone to enforce them? I think another food law says that if you plant a garden, you can only prepare food from July to September if it contains zucchini. Otherwise zucchini will literally take over your life, right? Well, these zucchini pancakes are the summer version of a pumpkin pancake. They are sweet and hearty and delicious.
How to make sweet zucchini pancakes
Preparing these pancakes is easy! It's like regular pancakes, except for the zucchini. First, shred your zucchini. You can do this by hand with a box grater or use your food processor.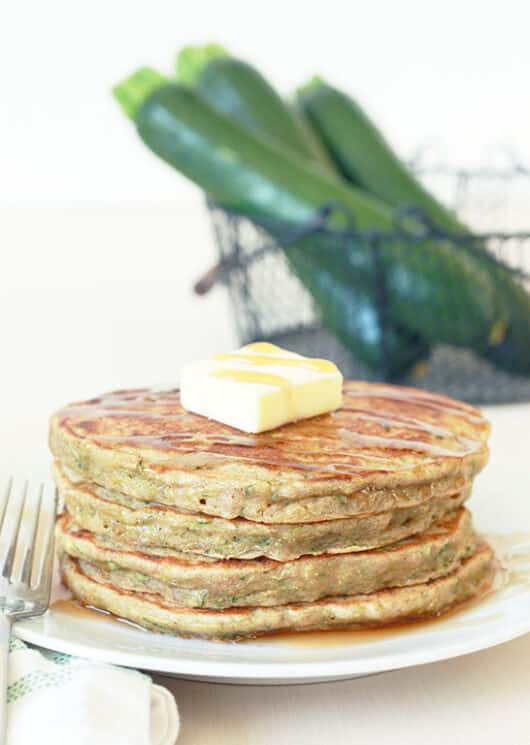 Better than shredding it yourself is for your children to help shred it. It's great when your kids are helpful in the kitchen – and it really helps them learn about food and love it. My food processor is so safe and easy to use that it's a great kitchen job for kids. When it comes to chopping the billions of zucchini you harvest from your garden, a food processor is a must!
Once you've messed up your dough, drop it onto a greased hot skillet or pan with large spoons. Let them boil on one side until the bubbles have burst, and turn them on the other side and cook until golden brown.
What to serve with zucchini pancakes
We love serving ours with plain Greek yogurt, maple syrup and fresh berries. A little summer sky right there. The cinnamon and nutmeg give these pancakes a spicy-sweet taste, and the zucchini and whole grain flour make these pancakes a hearty staple. I frozen the pancakes that we didn't eat and they warmed up wonderfully. Perfect for the morning hours when you don't have much time – throw one in the toaster and have breakfast to go!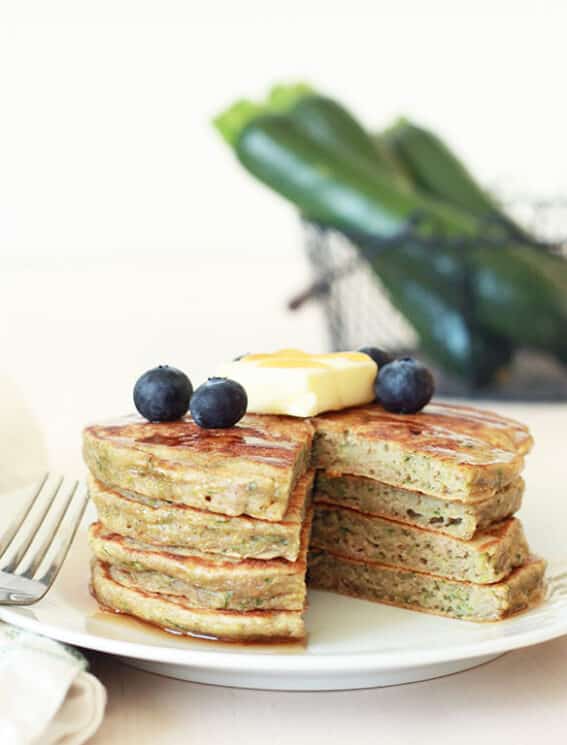 Another of our favorite zucchini recipes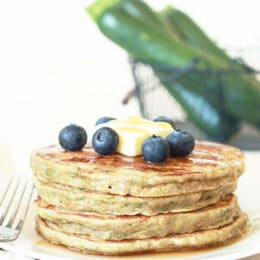 1 Cup white wholemeal flour
1/4 teaspoon Salt-
1/2 teaspoon Baking soda
1 teaspoon cinnamon
1/8 teaspoon nutmeg
2nd large egg
2nd tablespoon olive oil
2nd tablespoon sugar
2nd tablespoon milk
2nd tablespoon Plain yogurt
1/2 teaspoon Vanilla extract
1-2 Cup zucchini (or a medium-sized zucchini)
In a bowl, whisk together the flour, salt, baking powder, cinnamon and nutmeg.

In a large bowl, stir in the eggs, oil, sugar, milk, yoghurt and vanilla until smooth. Chop zucchini and stir in zucchini schnitzel. Stir dry ingredients in zucchini batter and mix until just combined.

Heat a large pan or frying pan over medium heat. Spray with cooking spray or brush with a little oil.

Scoop 1/4 cup batter onto your pan or skillet. Cook for 2 to 3 minutes until bubbles appear on the surface. Turn the pancakes over and cook for a minute or two more until golden brown underneath.

Top with yogurt and berries or your favorite pancakes.
Calories: 141kcal | Carbohydrates: 17thG | Protein: 6G | Fat: 6G | Sodium: 183mg | Dietary fiber: 2ndG | Sugar: 5G
Cuisinart food processor