These Avocado and banana muffins are a great way to get your kids to eat nutritious avocados and bananas. They are one of the wettest muffins we've ever made!
Yes, we added avocados to these muffins! What a great super meal to include in your family's diet. A friend of mine who tried this loved the avocado because she wanted to eat it and knew how good it was for you, but she couldn't handle the texture of avocados! So these muffins were the perfect answer for them!
Some time ago we published 20 avocado recipes for kids, which was very popular because so many of you are looking for ways to include avocados because you know the health benefits of these recipes.
The health benefits of avocados for children include:
healthy fats that are important for cell walls and brain development.
Vitamin C & E, which promotes healing and strengthens the immune system.
Dietary fiber, especially soluble fiber, helps children with digestion.
naturally occurring folic acid
Potassium (which is naturally also contained in the bananas) makes these muffins ideal for growth and muscle building.
Iron (transports oxygen through the body),
Phytonutrients that protect against cancer and cell damage.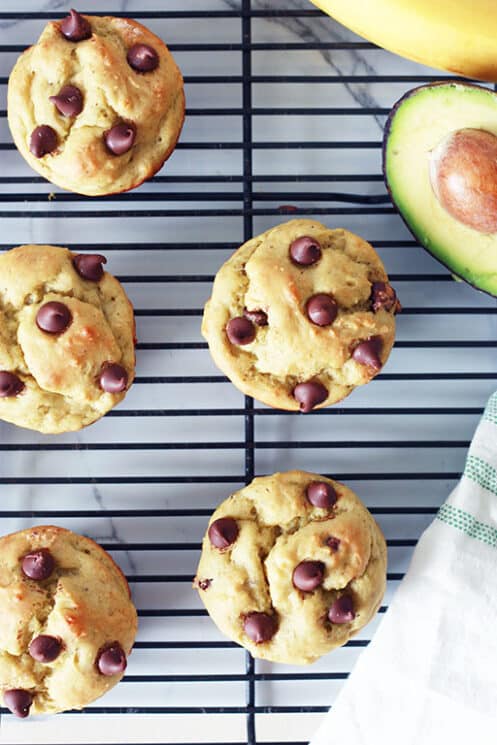 How to choose a ripe avocado
The first and most important thing is to find a ripe avocado! Overripe bananas are perfect for baked bread and muffins, but also avocados. You want to mix avocado and banana until they are smooth. The softer they are, the easier it gets.
When I'm in the supermarket, I like to estimate how quickly we need the avocado. You can ripen quickly on your counter. So if it takes a few days before we need it, I will get one that is under ripe. The day you want to use an avocado, you know it's ripe when:
You press it gently and it feels firm, but gives in a little bit to the pressure.
If the skin is black, it is probably too mature. (Depending on the variety, the skin can be very dark green and is still fine.)
If the skin feels dry and chapped, it is overripe.
If the meat is brown inside, it is overripe.
You can make muffins with a ripe avocado and even an overripe banana!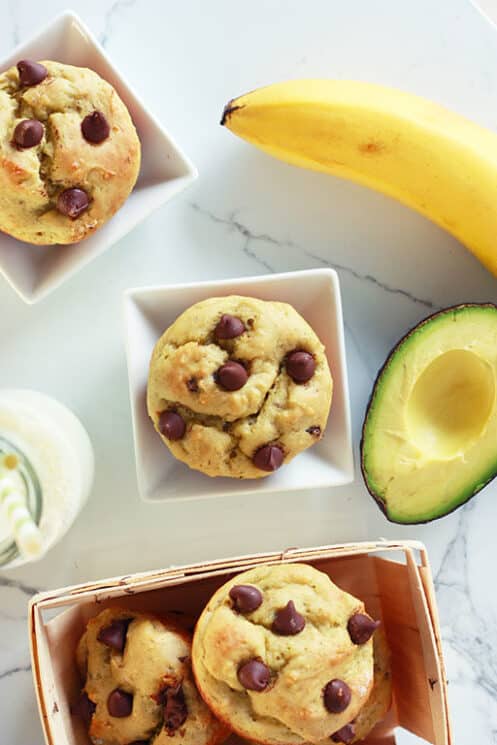 If you make half a recipe or have a reason to save half an avocado, you can do it! The top layer of avocado can oxidize a little and turn gray or brown, but it's easy to just skim off the top layer of meat. The avocado below should still be light green-yellow.
Peel the banana and put it in a blender or food processor. Cut the avocado lengthways and take out the pit. Then I like to scoop out the meat of the avocado with a spoon and add it to the food processor. It is ideal for the food processor, unless you have a small glass for your blender as there is not much liquid yet. Once smooth, then add your eggs, honey and vanilla and mix again.
Carefully fold in with the moist ingredients under the dry ingredients and stir with a wooden spoon until they are moistened. Fold in your chocolate chips!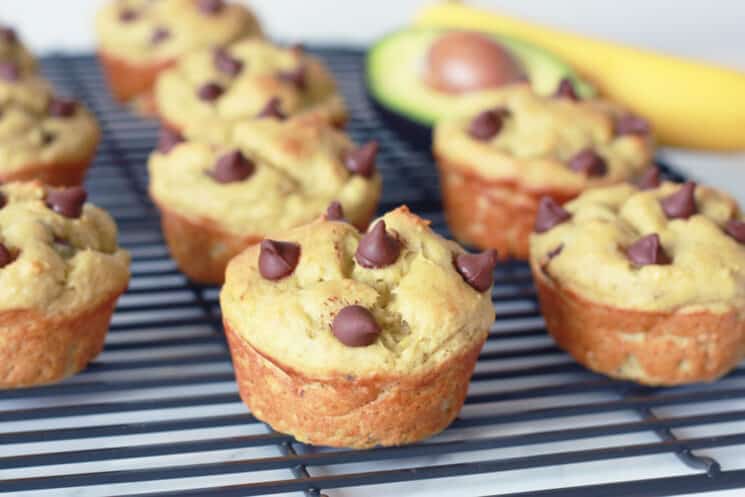 What type of muffin papers are the best?
Although muffin papers are great, easy to use, and avoid washing, I prefer Silicone Muffin Cups! Healthier muffins tend to stick to paper so much that you lose half of your muffin that comes off the paper. With the silicone muffin cups you can take the entire muffin out of the packaging.
Another tip is to spray the inside of your muffin papers and even the silicone cups. Your muffins will come out right away and you won't lose a delicious muffin!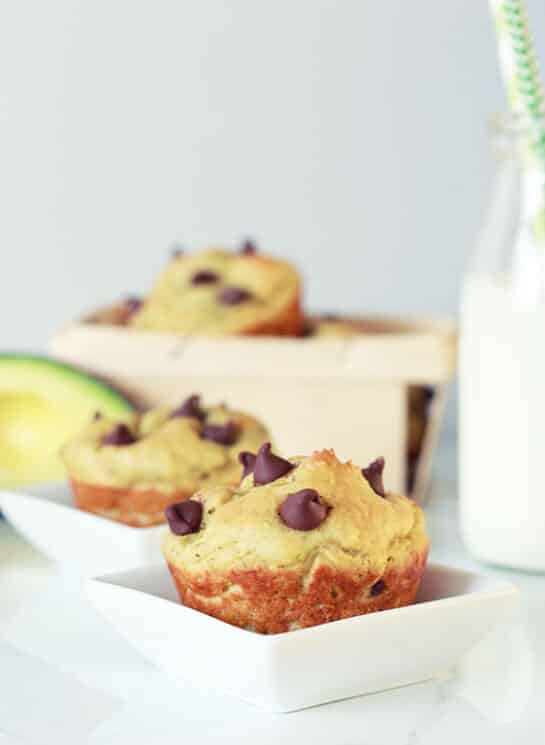 I also like to use an ice cream scoop with a spring-loaded handle to scoop out exactly the same amount of dough for each cup. If you're in a hurry, you can also make mini muffins that bake faster.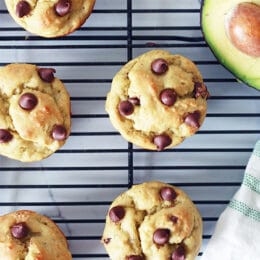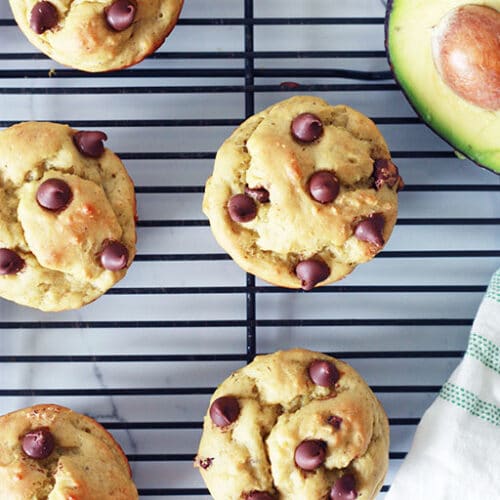 1 medium avocado
2nd medium banana
2nd large egg
2nd tablespoon honey
1 teaspoon Vanilla extract
2nd Cup Flour white wholegrain wheat
2 1/2 teaspoon baking powder
1/4 Cup Chocolate chips, dark
Preheat the oven to 350 degrees. Grease or spray your muffin tin or put muffin papers in the cups.

Peel the avocado and bananas and put them in a food processor or blender. Mix until everything is smooth. Add eggs, honey and vanilla; mix again.

Put the flour and baking powder in a mixing bowl and whisk. Add banana mixture and stir gently until combined. Add pieces of chocolate; Scoop in cupcake liner. Bake for 20 minutes or until an inserted toothpick comes out clean.
Calories: 323kcal | Carbohydrates: 55G | Protein: 8thG | Fat: 9G | Saturated fatty acids: 2ndG | Cholesterol: 62mg | Sodium: 30thmg | Dietary fiber: 5G | Sugar: fifteenG