No wonder, the cornerstone of this recipe is small falafel balls with spinach stains. If you look at the photo, you can see the patties fried in the pan in the 5 o'clock position. They are encrusted, golden, browned on the outside, tender and dotted with lemons on the inside. They are also full of greens and chickpeas. I make them in bulk, freeze them and eat them (all the time) as snacks or in bowls like this.
Falafel in the center
If you have the falafel, you can put together a pretty good snack or meal. It could be something like the way you see it here, or something else based on what you have on hand. I had some hummus in the fridge (a beet version of this hummus), some kale, carrots and cucumbers to use, and some pita. Some herb walkers too. The pita and carrots went in the oven, I cooked the falafel in a pan and chopped the rest. Let's say you didn't get any of it, but you had some romaine, yogurt, and a clove of garlic. Instead, you could make falafel salad wraps, crush the garlic into a paste, and add it to the yogurt along with some salt. Use that as your sauce. The name of the game here is adaptability.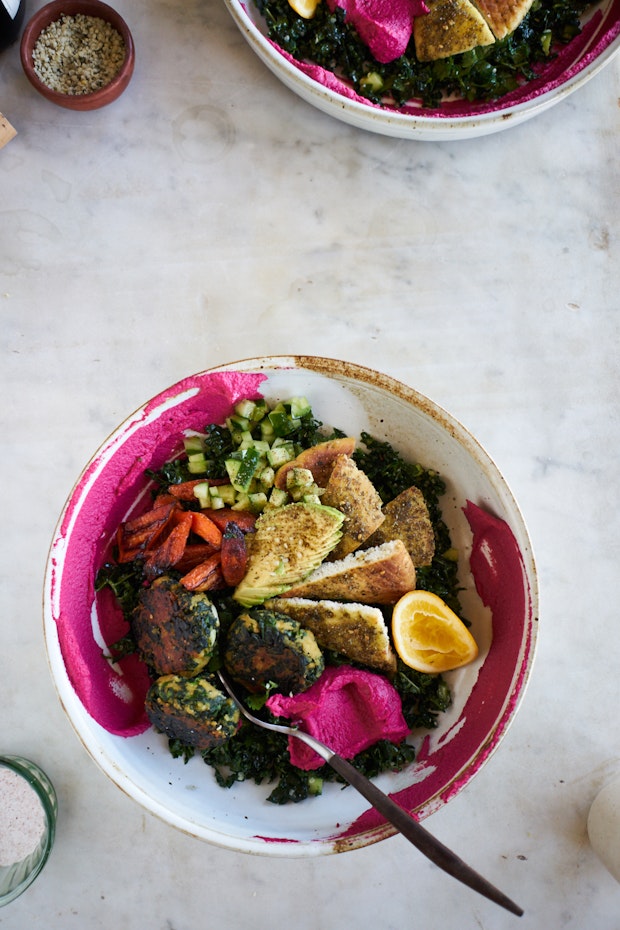 Cooking methods
Once you've shaped the falafel, you have a number of cooking options. If you crush them a little and fry them in a little oil, you will get the best golden crust. Sometimes I bake them (450 ° F), also a pretty strong contender. I even tested them in an air fryer and they are one of only a few things that exceed my expectations (7 minutes at 390 ° F, shake the basket and do another 7 minutes).
A vegan version
I will also note this in the recipe headnotes below. To make the falafel vegan, you can use flax "egg" (5 T. water + 2 T. ground flaxseed beaten together) and skip the cheese.