Sweet and creamy with the delicious aromas of pumpkin pie. This healthy pumpkin spice dip is actually full of protein and a healthy dip to give to your kids!
Healthy dips for children
Kids will definitely eat fruits and vegetables themselves, but when they have a bath they are more likely to try different fruits and vegetables and eat more of them. However, the truth is that sometimes kids love the dip more than the food they dip? It seems like in the end the fruits or vegetables dip in and then just lick off the dip! The problem is, a lot of the common "kid" dips aren't very healthy: ketchup, ranch, bbq sauce, gravy.
The good news is that there are plenty of dips you can make that are healthy! This healthy pumpkin spice dip is definitely one of them! My kids love hummus, so I decided to refine this pumpkin and spice dip recipe. Think of this dip as a really tasty hummus – that's really cute! You can whip this up in about 10 minutes. It stores well in the refrigerator for about a week. Do it once, eat, and repeat ……… .just the eat part 😉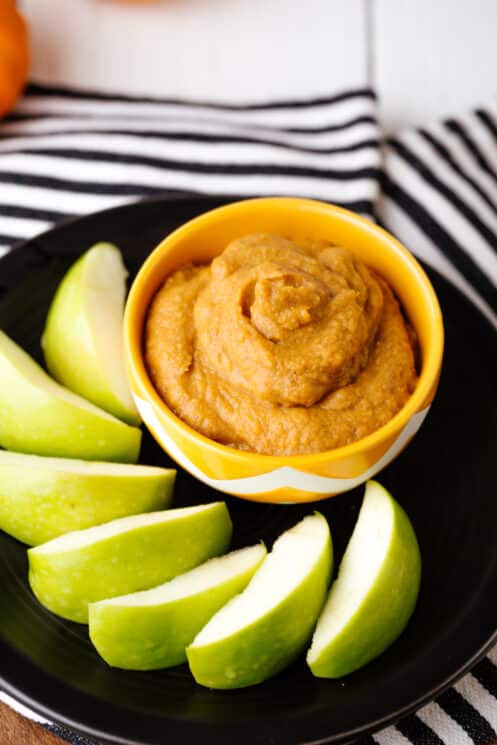 How to Make a Healthy Pumpkin Spice Dip
This dip is so easy! First, put everything in your food processor. If you have a powerful blender and want it to be really sleek, you can use your blender over a food processor. Mix until everything is smooth and creamy.
That's it! We like to serve this dip with crispy sweet / tart apples like Granny Smith. You can also dip in toasted whole wheat bread, crackers, and pears. You can also just eat it with a spoon … as some people in our house have done.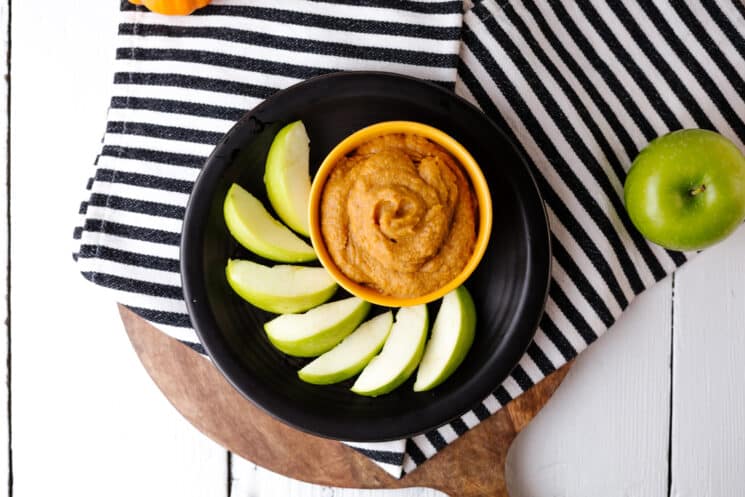 You may also like …
fifteen ounce Chickpeas (garbanzo beans), canned
1 Cup Pumpkin, canned
1/4 Cup almond butter
2 tablespoon oil
3 tablespoon honey
1 teaspoon Vanilla extract
1 1/2 teaspoon cinnamon
1/8 teaspoon nutmeg
1/8 teaspoon Cloves, ground
1/2 teaspoon Salt-
1/4 teaspoon Ground ginger
Serve with
2 medium pear
2 medium Apple
Rinse and drain the chickpeas. Put all ingredients in a food processor or blender and stir until smooth.

Serve with sliced ​​pears and apples.
Calories: 423kcal | Carbohydrates: 62G | Protein: 10G | Fat: 18thG | Saturated fatty acids: 2G | Sodium: 597mg | Fiber: 14thG | Sugar: 34G