Family traditions for the holidays are a great way to keep your children feeling connected and loved. Our special Valentine's Day Fondue Dinner is a long tradition for engaging with your kids on this fun vacation!
Holiday traditions and with food
Valentine's Day is a day when you express your love for those you love. Therefore, of course, we also include our children. While I definitely spend some time alone with my husband, I am deeply in love with my children and want to spend time with them too. My children look forward to this tradition every year. When I started this tradition, I didn't realize how successful it can be in getting my kids to eat different foods that they don't normally love.
So if you want your kids to eat twice as many vegetables as expected, serve your veggies with fondue! One mother said of this fondue: "This was a great success, even with the picky adult eaters!" LOL.
Valentine's Day Fondue Dinner Menu
The star of our dinner is always the cheese fondue. We would also like to have a protein option. This is our typical menu:
Appetizers
Roast Chicken + Steak
Cheese fondue with dipper
dessert
chocolate fondue
Berries + fresh fruit
Dessert dippers
We love having many different options for dipping into the cheese fondue! Here are some ideas for dipper:
Vegetables:
broccoli
asparagus
zucchini
Carrots
cauliflower
Cherry tomatoes
paprika
celery
Mushrooms
Fruit:
Grains:
French bread
Multigrain bread
Sour Dough Bread
Soft or hard pretzels
Tortellini
Tortilla chips (think of nachos)
If you have really young children and raw vegetables are too difficult to chew, consider blanching the vegetables. To do this, I dipped the vegetables in boiling water for 2 minutes, then removed them from the boiling water and shocked them with a cold water bath. This will prevent the vegetables from continuing to cook. It's a great method for kids as it gives you a softer vegetable than raw, but it's not cooked in a way that makes them mushy. Ideal for fondue!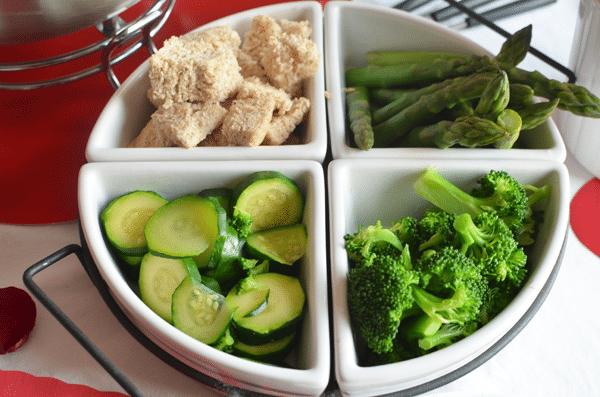 Cheese fondue is really easy to make. We bought this fondue pot years ago and it worked great for this tradition! I can only recommend the Cuisinart brand. The production of the fondue only takes a few minutes and then stays warm and melt in the pot.
It's also fun to serve a fancy drink for Valentine's Day. Sometimes we make a 100% selection mixed with club soda. For a few years we made Italian lemonades that my kids love! You can even print out a fancy menu and feel like you're in a restaurant.
And of course, no Valentine's Day dinner is complete without chocolate-iced strawberries! Some of our other favorite chocolate fondue dipping things are:
pineapple
Bananas
Duties
kiwi
Pound cake
Rice Krispie Treats
Marshmallows
Strawberries
pretzels
Nilla waffles
Caramel pieces
Whatever you want to serve, adding a few decorations or fancy dishes will make it feel really special. Hope you can enjoy these fun Valentine's Day traditions with your kids!
Cheese fondue
1 Cup Cooking wine can use chicken broth instead
1/2 lb Cheddar cheese, crushed
1/2 lb Gouda cheese, crushed
2 tablespoon All-purpose flour
1/4 TL Salt-
1/4 TL ground nutmeg
chocolate fondue
10 Ounces semi-sweet chocolate pieces
1/3 Cup milk
1/3 Cup Whipped cream
1 TL Vanilla extract
Cheese fondue
Turn your fondue pot (or pot on the stove) to medium high. Add cooking wine or chicken stock and bring to a boil. Set the heat to medium. Add cheese 1/4 pound at a time. Stir after each addition of cheese until it has melted.

Stir in flour. When the cheese has melted and the flour is incorporated, stir in the salt and nutmeg. Set heat to low and serve with dipper!
chocolate fondue
In a saucepan, combine the chocolate milk and cream over low heat. Stir often until the chocolate is completely melted and the mixture is smooth.

Add the vanilla. If necessary, stir in cream or milk one tablespoon at a time until the consistency is what you want.

Pour the mixture into a fondue pot or small slow cooker to keep warm while you serve. Serve with a ladle of your choice!
Cheese Fondue Dipper Ideas:
broccoli
asparagus
zucchini
Carrots
cauliflower
Cherry tomatoes
paprika
celery
Mushrooms
Apples
Pears
Grapes
French bread
Multigrain bread
Sour Dough Bread
Soft or hard pretzels
Tortellini
Chocolate fondue ladle:
Strawberries
Bananas
pineapple
Marshmallows
Rice Krispie Treats
Pound cake
Calories: 1688kcal | Carbohydrates: 74G | Protein: 98G | Fat: 113G | Saturated fatty acids: 57G | Trans fat: 1G | Cholesterol: 434mg | Sodium: 1513mg | Fiber: 9G | Sugar: 54G