These gluten free chocolate cupcakes are super moist, and amazingly chocolatey! They have the nutrition of a muffin, but taste like cake!
How Do You Make Gluten Free Chocolate Cupcakes From Scratch?
Making gluten free cupcakes uses basically the same method as regular chocolate cupcakes. This recipe calls for flax + water instead of an egg which is the main difference between this recipe and other recipes.
The nice thing about using gluten free flours is that you don't have to worry about overmixing, because you are never going to create too much gluten! But for all intensive purposes, you still mix the dry and wet ingredients separately and then add them together at the end.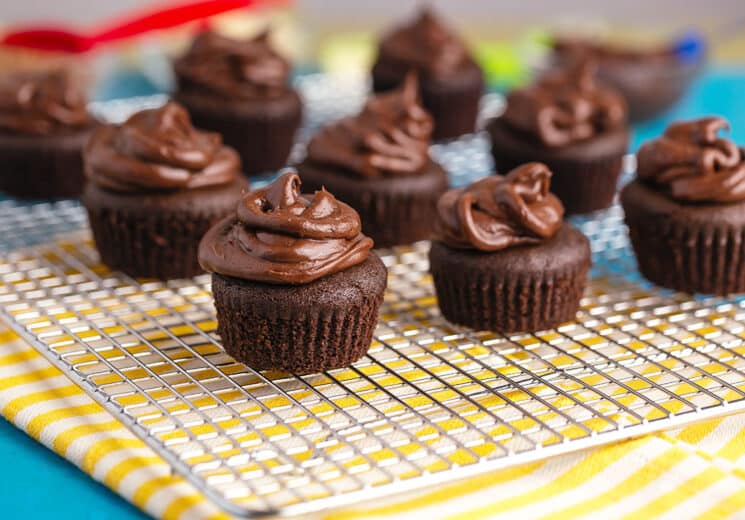 Which Gluten Free Flour Is Best for Cake?
According to the gluten free experts, the flour that has been found to work best in the most variety of baked goods is the King Arthur Flour gluten-free blend. It contains both white and brown rice flour and two types of starches – potato and tapioca. Those four ingredients have been found to be the key to a gluten free blend that works almost as good as a wheat flour.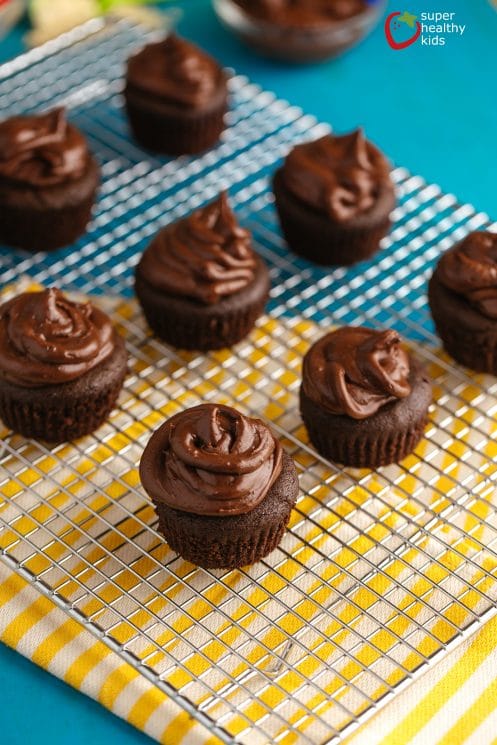 Do Gluten Free Cupcakes Taste Good?
If you have done any amount of baking with gluten free flours, you can probably attest to the fact that many of them taste awful: Sorghum flour, amaranth flour, soy flour – yuk! However, some of the gluten free flours actually create baked goods that taste just as good if not better than those made with wheat flour.
Believe it or not, rice and nut flours hold moisture better than wheat flour and are able to create a better tasting product that lasts longer. So basically, just because a flour is "gluten-free" does not necessarily mean it tastes terrible.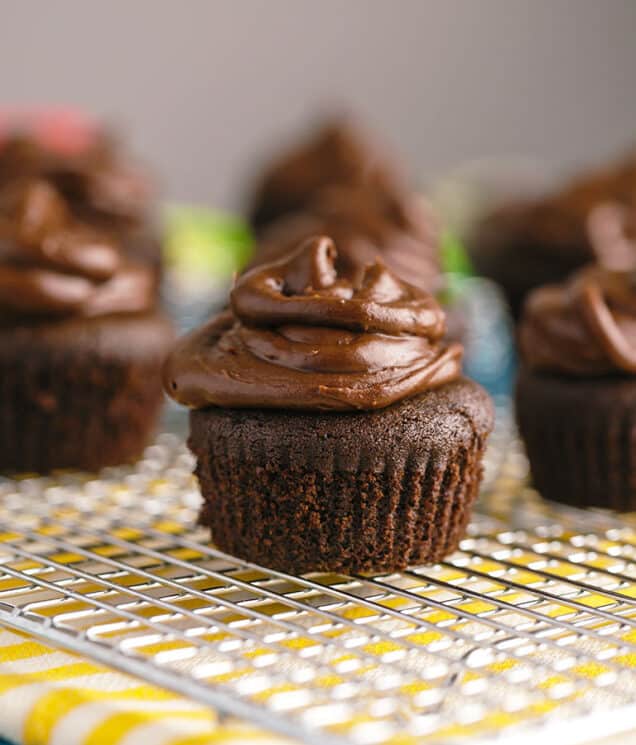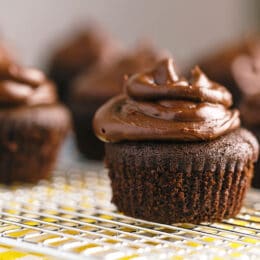 12 standard cupcake liners
2 3/4 cup King Arthur Gluten Free Flour Blend
1/2 teaspoon salt
3/4 cup cocoa powder, unsweetened
1 3/4 cup sugar
1 1/2 teaspoon baking powder
2 teaspoon baking soda
2 tablespoon flaxseed, ground
1/4 cup water
2 teaspoon vanilla extract
1/2 cup coconut oil
1 cup soy milk
1 cup water
Preheat oven to 350 degrees. Place cupcake liners into a muffin pan.

Mix ground flax with 1/4 cup of water and allow to sit while gathering and mixing other ingredients.

Sift flour, salt, cocoa, sugar, baking powder and baking soda in a large bowl.

In a separate smaller bowl, mix together flax eggs (the water and flax that has been sitting), vanilla, oil, milk (we used almond milk) and boiling water.

Mix wet ingredients into dry ingredients. Pour an even amount into each cupcake liner.

Bake on middle rack for 20-25 minutes and check for doneness by inserting a toothpick into a cupcake, looking for minimal residue, which will indicate that they are finished baking. The tops should be firm when they are done, too.

Allow to cool before icing.
Calories: 312kcal | Carbohydrates: 54g | Protein: 5g | Fat: 11g | Saturated Fat: 8g | Sodium: 323mg | Fiber: 5g | Sugar: 31g