This fruit salad is light, fresh and full of our favorite seasonal fruits! It's the perfect addition to your Christmas breakfast. But it's pretty awesome anytime!
While the summer months steal the show when it comes to the product department, some of our favorite winter fruits are in high season! Fruit salad is the perfect way to introduce new fruits to your kids. In this recipe we chop the fruits and toss them in a sweet citrus dressing. Delicious!
We also love how adaptable this fruit salad is! Can't you find a ripe kiwi? Allergic to pears? Leave them out or replace whatever fruit you have on hand. You can't go wrong.
This salad is also nutritious!
Apples– Dietary fiber and vitamin C.
kiwi– Dietary fiber, vitamin C and antioxidants
pomegranate– Dietary fiber, vitamin K, protein, folic acid and vitamin C.
Pears– Dietary fiber, potassium and antioxidants
Mandarins– Vitamins A, B, C, fiber and beta-carotene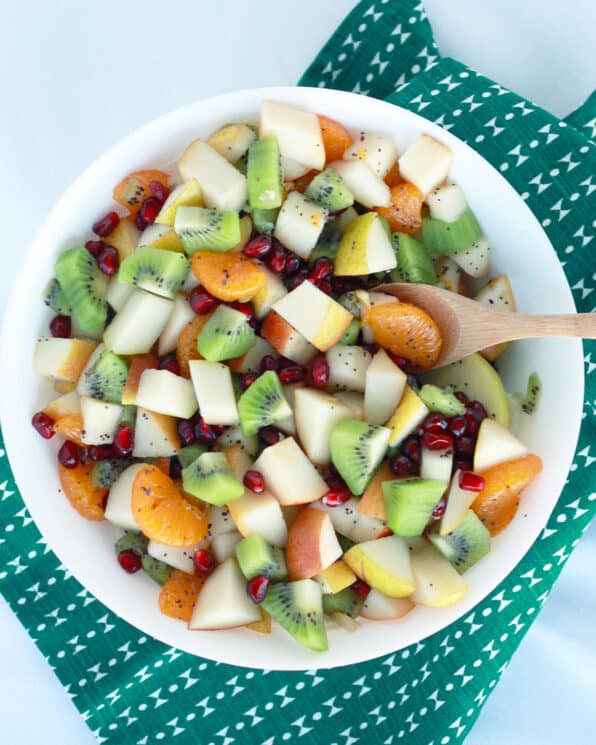 The dressing is super easy and works with so many different fruits! We made a simple icing with honey and orange juice with a little poppy seeds for extra crunch. They also add a healthy dose of fiber, manganese, and protein!
We hope you love this Christmas fruit salad as much as we do!
I would appreciate your feedback! If you're making this Christmas Fruit Salad Recipe, do you leave a comment and a star rating below? Your feedback will be very helpful for SHK parents and other readers who are considering creating the recipe. Thank you!
1 large Apple chopped
1 Cup kiwi peeled and chopped
1 medium pear chopped
1 Cup Mandarins, marinated in juice
1/2 Cup Pomegranate seeds
glaze
2 tablespoon orange juice
1 tablespoon honey
2 TL Poppy
Chop the apple, kiwi and pear. Place in a medium bowl with the drained oranges and pomegranate seeds.

In a small bowl, whisk the orange juice, honey and poppy seeds together. Drizzle over the fruit and carefully toss to coat. Serve.
Calories: 138kcal | Carbohydrates: 35G | Protein: 2G | Fat: 1G | Sodium: 5mg | Fiber: 4thG | Sugar: 24G