Muffin or cupcake? These healthy carrot cake muffins are hard to spot because they are so delicious!
How to make carrot cake muffins
Here are some of my best tips for making muffins that are light, fluffy, but definitely moist.
Tip 1: Use ingredients at room temperature. When eggs, milk, and yogurt are at room temperature, they form a better emulsion that traps air and creates lighter, fluffier baked goods.
Tip 2: use oil instead of butter. Oil creates a more tender and moist muffin.
Tip 3: If you want nice large muffins, don't be afraid of baking soda. Add a heaping teaspoon instead of a level 1.
Tip 4: don't overmix your dough. We've all heard this before, but it really is the key to a fluffy, moist muffin. As soon as the flour disappears, step away from the spoon.
Can I Freeze Carrot Cake Muffins?
Yes! These muffins will freeze very well in an airtight container for up to 3 months. Just heat it up in the microwave for about 30 seconds if you want to eat one.
Tips for making moist carrot cake muffins
Oil makes a much moister crumb in a muffin – use it instead of butter!
Make sure you don't bake your muffin overcooked. A higher temperature and a lower baking time are usually sufficient.
Don't overmix! Once the flour is mixed in, step away from the bowl.
How To Make Carrot Cake Muffins Healthy?
We love using Greek yogurt in these muffins to give them more protein and calcium. We also use a lot of carrots!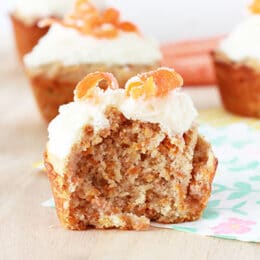 muffins
1 3/4 Cup Flour
1 TL baking powder
1/2 TL Baking soda
1 TL Salt-
1 TL cinnamon
1/2 TL ground ginger
1/4 TL nutmeg
2 cups grated carrots
1/2 Cup melted coconut oil
1/2 Cup Brown sugar
2 big Eggs
3/4 Cup plain Greek yogurt
1 TL Vanilla extract
Greek yogurt frosting
4th Ounces cream cheese
1/2 Cup plain Greek yogurt
1/4 Cup powdered sugar
muffins
Preheat oven to 400 degrees Fahrenheit. Spray the muffin pan with cooking spray or line it up with muffin baking cups.

In a large bowl, whisk together the flour, baking powder and baking powder, salt, cinnamon, ginger and nutmeg.

Add the grated carrots to the flour mixture and stir to coat well.

In a smaller bowl, add coconut oil, brown sugar, eggs, yogurt, and vanilla. Whisk together until well mixed.

Pour the wet mixture into the dry one and stir until everything is well mixed. Evenly scoop the mixture into your muffin pan. Should fill about 12 of the muffin cups.

Bake for 14-16 minutes or until the tips spring back when touched lightly.

Remove from the oven and place individual muffins on a cooling shelf. If desired, top with Greek yoghurt frosting. ENJOY!!
glaze
Combine softened cream cheese, Greek yogurt, and powdered sugar. Beat until smooth and use to frost muffins if desired.