This sweet brown bread is made from whole wheat flour and lightly sweetened with honey and molasses to make a delicious bread that goes with pretty much any meal!
If you've been to the cheesecake factory before, you've most likely experienced the black bread they bring to every table with your meal. For the longest time my family assumed it was some kind of insulting whole wheat bread that was far too healthy to be tasty. As a mother, I took one for the team and devoured the black bread myself.
Little did they know that black bread was actually a fluffy, tender, slightly sweetened treat. As a selfish person, I did not feel compelled to share this information.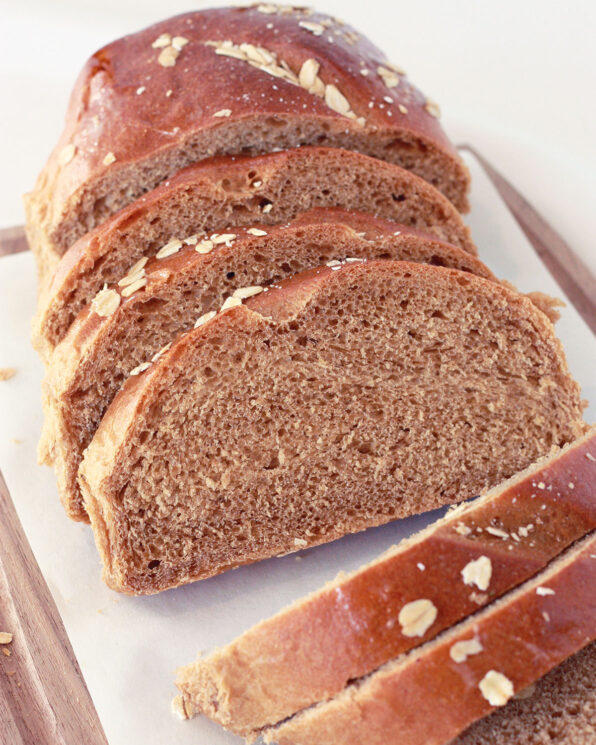 However, they eventually found out. And now I have to unpack the precious slices – which means that nobody gets enough bread to be completely satisfied. What brings us to where we are today. A recipe to copy the black bread from Cheesecake Factory. Now you no longer have to wait for a special occasion or share it with your newly enlightened family members. You can do this in the comfort of your own kitchen!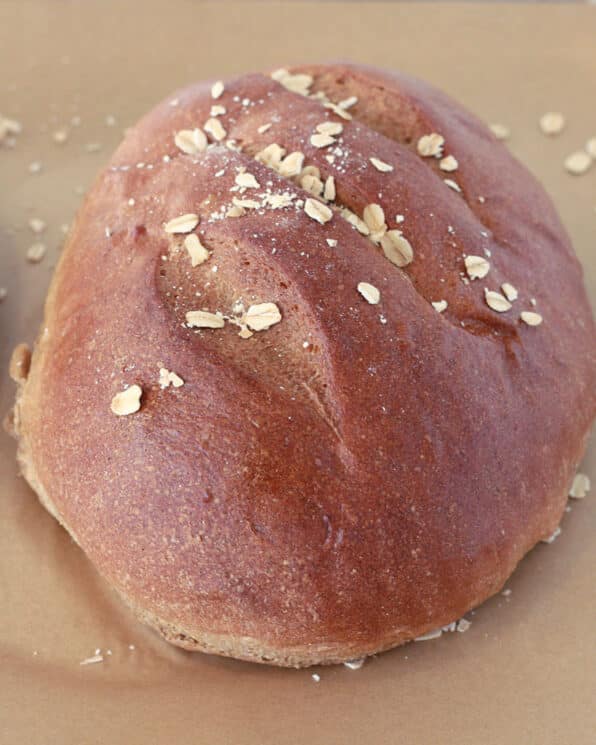 What is the black bread in the Cheesecake Factory?
It's a soft, baguette-shaped bread with a rich, slightly sweet taste made from cocoa powder and molasses. In the Cheesecake Factory, the dough is shaped into smaller loaves to create perfect appetizer-sized slices. We decided to make bigger loves to serve with a meal or to make toast! It depends on you. If you divide the dough in half, you will get two larger loaves of bread like we have here.
What do you eat with black bread?
Everything! Soup? Yes! Jam, yes! Plain old butter? Yes Yes Yes! It is fine with everything. We love it – and I know you will too! It's only slightly sweet, so it goes well with a meal or sandwiches.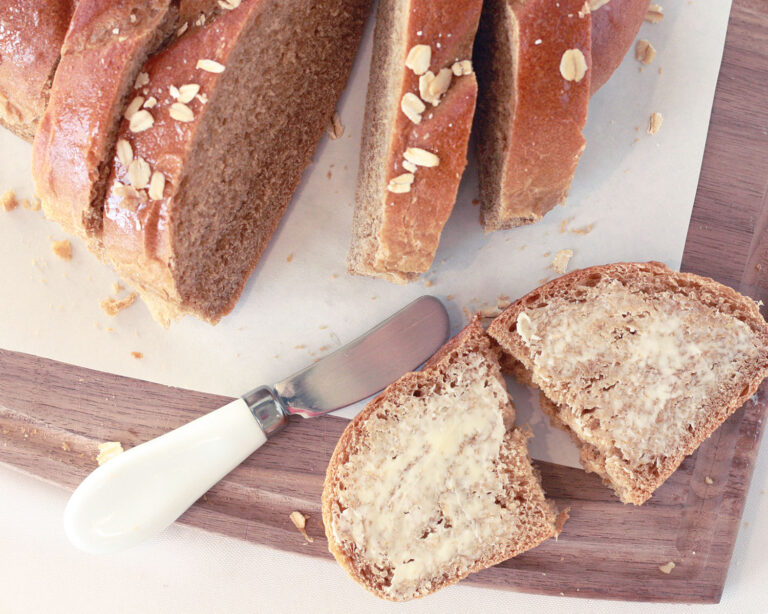 How do you make black bread?
We used our stand mixer to mix the ingredients for this bread. However, you can do this by hand if you don't have a stand mixer. After kneading, let the dough rise before shaping it into bread for a second rising. We baked these loaves for about 30 minutes, but if you are making smaller loaves you should check them around the 20 minute mark. After the first baking, we smeared the loaves with melted butter and sprinkled with oats and baked for another 5 minutes. This is a completely optional (but delicious!) Step. This is really a very simple bread!
I would love your feedback! If you are making this sweet brown bread recipe, leave a comment and a star rating below? Your feedback will be very helpful to SHK parents and other readers who are considering creating the recipe. Many Thanks!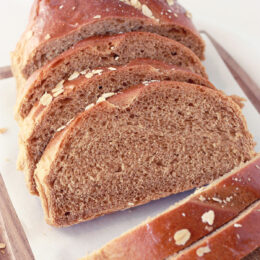 2 1/2 cups warm water
1 1/2 tablespoon yeast immediate
1/2 Cup molasses
2 tablespoon Cocoa powder
1/3 Cup honey
2 TL Salt-
3 cups Whole wheat flour
3-4 cups Bread flour can use general purpose
3 tablespoon melted butter
2 tablespoon old fashioned oats
Mix the water, yeast, molasses, cocoa powder, oil, honey, salt and 2 cups of whole wheat flour in the bowl of a stand mixer. Mix until everything is mixed well. I recommend a dough hook if you have one.

Add a cup of flour at a time as the mixture runs, until the batter loosens from the sides of the bowl. Add the whole wheat flour first and then the bread / all-purpose flour. You may not need to use all of the flour. Knead in the mixer for 5 minutes. The batter should be soft and slightly sticky, but not stick to the sides of the bowl.

Put the dough in a large, lightly greased bowl and cover with plastic wrap or a clean tea towel. Let it rise until the size doubles. This takes 1-2 hours, depending on how warm the room is.

Once the dough is twice as big, take it out of the bowl and divide it into two or three evenly sized pieces. Two pieces make large loaves. Line a baking sheet with either parchment paper or a Silpat mat. Shape the dough into oval shapes and place on the baking sheet. If you're making three loaves of bread, you'll need to use two baking sheets to make sure they have room to rise without touching each other.

Cover the loaves with a light tea towel and let them rise again for about an hour, until they are puffy and twice as big. Just before baking, cut three slashes across the top of each loaf.

Preheat the oven to 375 degrees. Bake the loaves for 25 minutes. Remove from the oven and brush lightly with the melted butter, then sprinkle with oats and bake for another 5-7 minutes until brown and cooked through. Let cool before cutting.